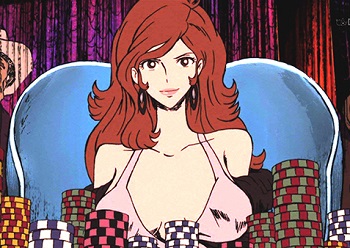 BASIC INFORMATION
Name: Fujiko
Surname: Mine
Age: Unknown
Height: 167 cm
Weight: 50 kg
Occupation: Thief
Sizes: 99.9 - 55.5 - 88.8
Birthplace: Japan
Age: Unknown
Favorite Weapon: Browning M 1910
Favorite Cigarettes: More Menthol
Favorite Things: Kawasaki, Austin Mini
Seiyuu: Masuyama Eiko (TV Pilot),
Nikaido Yukiko (Lupin the Third Part I),
Koyama Mami (Lupin III: The Fuma Conspiracy),
Sawashiro Miyuki (2011)
PERSONALITY
Fujiko is the heroine of the series.

A thief and a gambler that always accepts any kind of challenge. She loves jewels, beautiful dressed and things of high value. She obviously loves money. So she often uses Lupin to accomplish her missions, and other men as well. Because she uses her sexy body and her hypnotic charm to get what she wants from everyone.
But Fujiko is not someone that is ready to do everything just for money. She follows her own way to do things and she hates bad and cruel people. She is actually kind but she hides her real personality in order to be not used by men and to appear not like a fragile person. Moreover, she lost the beloved person and suffered so much, this is the reason why she seems to be not serious with Lupin. In truth, she loves him and cares of him so much at the point that she says she can't live without him, and that's true. He also loves Fujiko and there are times in which they are very close and others that they look distant, but the only real thing among them is that they are deeply in love. He is cute when calls her "Fujiko-chan", those moments are priceless.