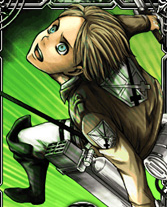 Armin is Eren and Mikasa's childhood friend, and also a close one to them. They're like a family, and this is the reason why, even if they lost everything, they continue to live with a smile on the face.
Armin is the weakest one among them, but the smartest one too. He's a kingmaker and even if he's 15, his strategies save the lives of not only his comrades, but a thousand people.
He likes books and his dream is visiting the world together with Eren, so he always try his best to protect people from giants and to change the ugly world that he had seen since his childood.
He's kind and polite, a person always ready to take care of the others and to help them, but at the same moment he doesn't want to appear weak and he tries his best to improve his abilities, even if he has a body much more weak and small than the ones of the others.
Armin has a beautiful heart, and even impossible thing can becaome true if he tries to reach them together with Eren and Mikasa. His strong will to live and to protect his beloved ones are the reason why he'll always believe in them more than in justice and more than in everything on the world~