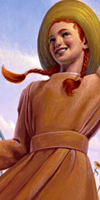 PROFILE AND GENERAL INFORMATIONS
Name: Anne
Surname: Shirley
Age: 11 (at the begin)
Hair: Red
Eyes: Green
Birth Place: Nova Scotia
Birthday: March, 1865
Best Friend: Diana Berry
The Hated (?) One: Gilbert Blythe

Anne's Story
Anne was born in Nova Scotia (c. March 1865) and spent the earliest years of her childhood there. She was orphaned as an infant of three months, when her parents, schoolteachers Walter and Bertha Shirley (née Willis), died of typhoid fever. Without any other relations, Anne was taken in by Mrs. Thomas, who had done housework for the Shirleys. After Mr. Thomas died, Anne went to live with the Hammond family for some years before being sent to the orphanage at Hopetown.
She is sent from the orphanage to the neighboring province of Prince Edward Island, which she regards as her true home ever after. Unfortunately, she was sent there by mistake-- her sponsors, the siblings Matthew and Marilla Cuthbert, requested a boy to help them on their farm, Green Gables, but their message had been garbled. Matthew quickly becomes charmed by the girl's good-hearted spirit and wants her to stay; at first, Marilla intends to send her back to the orphanage, but is eventually won over by Anne's quirky joy of life.
Anne's reputation is initially clouded to the rest of the village of Avonlea by an outburst at the Cuthberts' neighbor, the outspoken Mrs. Rachel Lynde, but this is amended with an equally impassioned apology. Anne soon becomes 'bosom friends' with Diana Barry. The friendship is disrupted by the temporary enmity of Diana's mother after Diana gets drunk on Marilla's homemade currant wine, which Anne had mistaken for raspberry cordial, but Anne is restored to the family's good graces by saving the life of Diana's little sister.
Anne also forms a complex relationship with Gilbert Blythe, who is three years older than Anne. On their first meeting as schoolmates, he taunts Anne with the nickname "Carrots", making her smash her slate over his head and form a long-lasting resentment. Her grudge persists even after he saves her from a near-disastrous reenactment of "The Lady of Shalott" with a leaky boat, but it gradually softens over time. For the rest of their school years in Avonlea, they compete as intellectual rivals for the top of the class; immediately afterward, they also go to Queen's College together and split the most prestigious prizes between them.
After Matthew's death near the end of Anne of Green Gables, Marilla's failing eyesight makes Anne decide to stay at Green Gables to help her, despite the scholarship she had won for Redmond College. Gilbert had already been appointed as the Avonlea schoolteacher for the following term, but as an act of kindness, he moves to a different school and gives the post to Anne instead. She finally accepts him as a true friend, though still uncomfortable at his occasional hints of deeper feeling.
The following year, Rachel Lynde's husband dies and Rachel moves in with Marilla at Green Gables, so that Anne feels free to continue her education at Redmond College. Gilbert goes to Redmond with her, but their relationship cools and becomes distant after she rejects his romantic overtures. She welcomes the courtship of the dark, mysterious Roy Gardner for two years, but ultimately realizes that she doesn't love Roy and can't accept his proposal of marriage. When Gilbert suffers a near-fatal bout of typhoid fever, Anne is deeply shocked by the prospect of losing him and how much he means to her; when Gilbert recovers and makes a second proposal to her, she accepts.
Their engagement lasts for three years. Her engagement ring is noted to be a circlet of pearls rather than a diamond, a stone which Anne said always disappointed her. After graduating from Redmond College with a B.A., Anne resumes her teaching career in the island's second-largest town, Summerside, while Gilbert attends medical school. Their married life largely takes place in the town of Glen St. Mary, also on Prince Edward Island, and they have seven children; Joyce "Joy", who died as an infant (b. & d. June 1891), James Matthew "Jem" (b.1892), Walter Cuthbert (b.1893-d.1916), who was killed in action in the Great War, the twins Anne and Diana (b.1895), also known as "Nan" and "Di", Shirley (b.1897), and Bertha Marilla "Rilla" (b. July 1899), who is the central character in the novel, Rilla of Ingleside.
Informations Source: Wikipedia