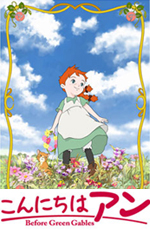 KONNICHIWA ANNE
Kon'nichiwa Anne: Before Green Gables, also romanized as Konnichiwa Anne, is the 26th series in Nippon Animation's renowned World Masterpiece Theater anime staple. The third production of the staple's recent resurrection (which began in 2007 with Les Misérables: Shōjo Cosette), it will span a total of 39 episodes.
The series premiered on April 5, 2009, and aired every Sunday from 19:30 to 20:00 JST on Fuji Television's broadcasting satellite network BS-Fuji. From May 2009, it was also aired on SKY PerfecTV!'s network Animax. Online streaming on Biglobe was announced, but was eventually suspended.
The series is an adaptation of Canadian children's literature author Budge Wilson's prequel novel Before Green Gables, which was translated into Japanese as Kon'nichiwa Anne by Akiko Usagawa. It chronicles the early years of main character Anne Shirley as she loses both her parents and is adopted by Matthew and Marilla Cuthbert.
Introduced in Lucy Maud Montgomery's Anne of Green Gables, the series marks the 100th anniversary of the original novel's release and the 30th anniversary of its highly popular anime adaptation, Akage no Anne, also produced by Nippon Animation and one of the first pioneering World Masterpiece Theater series. It will replace The Long Journey of Porphy, and will be narrated by Eiko Yamada, who portrayed Anne in the original Akage no Anne.
While developing the series, Nippon Animation's staff undertook research by visiting a historical village in northeastern Canada which formed the inspiration for Avonlea in the novel, going to historical houses preserved from the era in which the novel is set and taking photographs, with core staff members and character designer and chief animation director Takayo Nishimura (previously chief animation director and character designer for 5 Centimeters Per Second), basing the characters, props and settings on them and also from historical books that he bought there. Nippon Animation's staff have visited historical locations in which World Masterpiece Theater series were set regularly since the staple's inception.