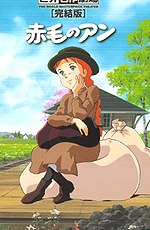 AKAGE NO ANNE
is an animated television series, part of Nippon Animation's World Masterpiece Theater. It was adapted from the novel Anne of Green Gables by Canadian writer Lucy Maud Montgomery. Produced by Nippon Animation in 1979, it was first broadcast on Fuji TV from January 7, 1979 to December 30, 1979. Fifty episodes were produced in total.
It has been exported to neighbouring Asian countries and also to Europe and Canada (Anna dai capelli rossi in Italian, Anne la maison aux pignons verts in French, Ana de las Tejas Verdes in Spanish, Ana dos Cabelos Ruivos in Portuguese and Anne mit den roten Haaren in German). As with the novels, the animated version of Anne is much beloved in Japan to this day and "DVD memorial BOX set" (Region 2) was released on August 22 2008 and a new anime series that serves as a prequel to the series, Kon'nichiwa Anne 〜 Before Green Gables, which premiered on April 5, 2009 in Japan.
This anime was directed by Isao Takahata. He chose to make this animated version very true to the original source material, although his two previous works (Heidi, Girl of the Alps, 3000 Leagues in Search of Mother) had been adapted and altered.
Hayao Miyazaki did the scene setting and layout. Previously he had worked on 3000 Leagues in Search of Mother, although he left the production and Nippon Animation after the first 15 episodes. Miyazaki noticed a difference in Takahata's philosophy of animation; Takahata stuck to controlled, realistic acting at the time, similar to his former work. Miyazaki had not intended to do other work with Takahata, but he had also not planned on becoming independent in this season of his work.
Yoshifumi Kondo was selected for character design and animation director over Yoichi Kotabe, who had stopped work with Takahata after 3000 Leagues in Search of Mother of the previous work. Kondo went on to work with Takahata on the films Grave of the Fireflies and Only Yesterday.