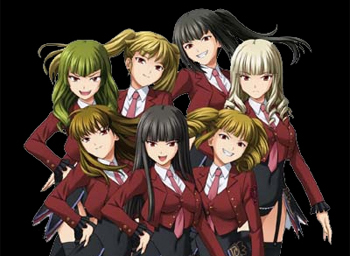 SEVEN SISTERS OF PURGATORY
The Seven Sisters are Beatrice's furniture.
They born from stakes and because of this they're also called "Seven Stakes of Purgatory". Usually they assume human form, and they use to become stakes just to kill their opponents when they're not able to do it in their human form.
As all the girls of the world they have feelings and different personalities. Not just related to their sins, but to their life. They're associate with love for Sakutaro, that they adore and they fight each other in order to embrace it.
Them all are warm and close among them and usually they use cute abbreviation to call every sister (example: "Asmo-nee", "Beelze-nee", "Luci-nee").
Usually they're summoned together and even if they have a fight very often, their bond is very solid. Also, they're totally devoted to Beatrice, and them all have the goal to become the furniture n.1.
When Erika destroys the Illusion of the Witch, Dlanor finds out that they're just copies of original stakes that seemed to be found in the United States, but in the end, when Beatrice runs toward Erika in order to face her, the Seven Sisters should protect her, instead of this, they betray Erika and fight to help their master.
In Episode 7 they're just maidens of the Ushiromiya Family and they work in the mansion, in Rokkenjima. Their names aren't the same because the servants in there are from Fukuin House and they have all the names end with "non".
So, they become "Lunon", "Manon", ecc.
Even in that situation and even without magic, they try to protect Beatrice.
COMPLETE PROFILES
● Lucifer ● Leviathan ● Satan ● Belphegor ●
● Mammon ● Beelzebub ● Asmodeus ●