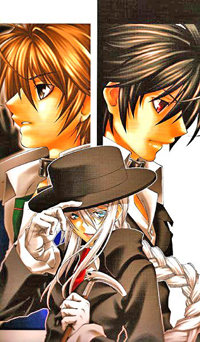 Monochrome Factor (モノクローム・ファクター ,Monokurōmu Fakutā?) is a Japanese manga series written and illustrated by Kaili Sorano.[3] It was first serialized in Mag Garden's bi-monthly manga magazine Comic Blade Masamune in May of 2004. However, when the magazine ceased publication, the manga began serialization in the new and revamped magazine, Comic Blade Avarus, in September of 2007.
The manga is licensed for distribution in North America by Tokyopop, and has so far released three volumes, with the latest having been released on September 9, 2008. The next volume is expected to be released in December 2008.
A shōnen-ai anime adaptation produced by GENCO, and animated by A.C.G.T., premiered on Japan's terrestrial television network TV Tokyo on April 7, 2008. It also airs on other networks such as AT-X and TV Osaka, though the episodes will be aired on TV Tokyo first.
Informations source: Wikipedia