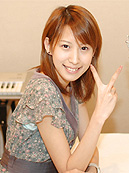 Name: Ami
Surname: Koshimizu
Birthday: January 15th, 1986
Hometown: Tokyo, Japan
Blood-type: AB
Hobbies: Karaoke, Purikura
Skills and Abilities: Traditional Japanese Dance
Career
* She graduated from Aomori Yamada High School. Due to her tall stature, she was often described as having model-like features by her classmates.
* She was once part of the theatrical company, Gekidan Wakakusa before joining Production Baobab.
* From her tenure in the Gekidan Wakakusa theatrical company, she was influenced by senior member Mayumi Iizuka to pursue her career as a seiyū.
* She debuted as the voice of Nadja Applefield from Ashita no Nadja when she won an audition during her second year of high school.
* She has been praised for her ability to voice roles ranging from taciturn to tsundere personalities.
* In the first Seiyū Awards held on March 3, 2007, she won the award for best actress in a supporting role for her portrayal of Kallen Stadtfeld in Code Geass: Lelouch of the Rebellion.
* She is co-hosting the radio program Comchat Countdown with Takahiro Sakurai.
Personal
* She often wears contact lenses for her vision, but would revert to using glasses when in private.
* While recording, she has a habit of constantly switching the script between her left and right hand.
* After appearing in the commercial for the Code Geass video game, she liked her uniform from the fictional Ashford Academy she wore so much that staff members let her keep it.