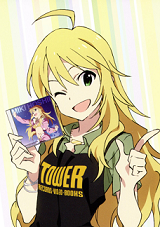 Name: Miki
Surname: Hoshii
Voiced by: Hasegawa Akiko
Age: 15/16
Image Color: Light Green (sometimes called Fresh Green)
Personal Songs: "relations", "Furufuru Future☆", "Shocking na Kare", "Day of the future", "Marionette no Kokoro" and "Tsuioku no Sand Glass"
Image Song: "Omoide o Arigatou" (shared with Chihaya) and "Overmaster" (Project Fairy image song)

Miki has rarely had to work hard for anything. It is because of this that she always approaches tasks with a very laid back attitude. She manages good grades with minimal effort, and was born with natural good-looks that belie her age, but she can sometimes be found annoying by others because of her rare attitude she has sometimes. She even receives about 20 confessions of love per day from boys. She's grown up in a very laissez-faire family, who had no problems with her becoming an idol. While she doesn't really have cruel intentions, she believes like everything else, she can make her way to becoming top idol easily. As she first appears in the Xbox 360 version of the arcade game, Miki is in some ways the second main character (behind Haruka) and her character is developed considerably over the game's year-long time span. If special conditions are met in the game, she cuts her hair short and no longer dyes it blonde.
Miki has brown hair (dyed blonde) and green eyes. She wears a light green beach-shirt with a butterfly on it. She wears a jean mini-skirt and orange shoes. When she cuts her hair, she has a white beach-shirt, a pink mini-skirt, and brown boots.
In The Idolmaster SP, Miki was unsatisfied with the way she was being managed, and switched to another production company, 961 Production, as a member of the group "Project Fairy".
In The Idolmaster Dearly Stars, she re-joins 765 Pro. She also is a natural blonde and has a curlier hairstyle.
In Puchimas, Miki's Puchidol is called "Afuu", who loves onigiri and when she is exposed to heat, her hair color and personality changes dramatically.
Informations Source: Wikipedia