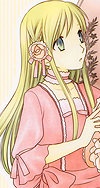 Liselotte is a solar and lively girl, who, at the begin of the story, moves in a new home with two servants, Anna and Alto. Despite the fact that she has the blood of Berenk, her brother menaged to steal her the position and let her chose between two things she could do: the first was to die, the second one to be exiled. Liselotte is a girl who loves life, and she decided to being exiled, but to start a new life, with her two friends.
    She's really a nice person, and always tries to do her best to help the others and being kind with them: even if that would mean to be in trouble, she will go ahead with it. She's adorable even with people who tries to hurt her~
    Even if the twins are there to help her, Liselotte doesn't let them make everything as housework and such, she wants to learn a lot of things that she had never tried to do because she couldn't. Sometimes she has some strange ideas, as the one to cultivate a vegetable garden, even if she doesn't even know how to do that.