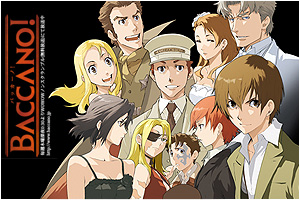 Baccano! is a light novel series by Ryohgo Narita, with illustrations by Katsumi Enami. The first volume won Gold in the 9th Dengeki Novel Prize and the series has been made into a TV anime which started July 26, 2007 by Aniplex and Brains-Base. The second storyline in the series has also been adapted into a manga.
STORY
In 1711, a group of alchemists seeking eternal life gathered on a boat to summon the "demon" that held the secret. The demon agreed to give them what they wanted—an elixir of life, the method to create more, and the secret to ending their new-found existence. The following night, alchemists began disappearing, "eaten" by one of their own. Realizing the threat posed by being close together, they decided to scatter across the world.
Centuries later, in Prohibition-era America, the immortals have come together once again, and the "stupid commotion" starts.
ANIME
The anime version, directed by Takahiro Omori and produced by Brains-Base and Aniplex, began on July 26, 2007. Scheduled for a single season, the trailer released on the official site shows scenes from the first four novels, with the main emphasis on the Grand Punk Railroad storyline. The entire season covers the events from 1930–1932, with one episode dedicated to the roots of the story in 1711. It mostly revolves around the hostage crisis aboard the Flying Pussyfoot in 1931, seen from eight points-of-view, (Isaac and Miria's, Czes's, Jacuzzi's, Rachel's, Claire's, the Lemures', Chane's, and the Russo family's), with character backgrounds included as well as the events in New York which occurred in 1930 and detailing Eve's journey to find her older brother Dallas in 1932. The anime was licensed by Funimation.
Informations Source: Wikipedia