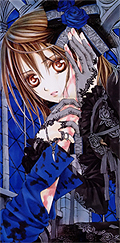 Name: Yuki
Surname: Cross
Real Surname: Clan (Kuran)
Real Status:Vampire (Pure Blood)
Human Age: 17
Height: 152cm
Hobbies: Eating and Sleeping
Weapon: Artemis

Yuki is an energic girl full of will to live, always ready to help the others and to fight to protect the important things.
At the begin of the story she's a member of the Day Class and she doesn't remember her past, but even if she has no memories, she lives her life looking at the future, doing her best in the present.

Yuki functions as guardian of the Cross Academy, and together with Zero Kiryu, she does her best to protect the peace of the cohabitation of humans and vampires, that live and study there as Day Class and Night Class.


She has a crush on Kaname Clan, the major representative of the Night Class, that is also her saviour, because he saved her from a bloody vampire when they were children. So he represents her first memory since she can remember.
Zero is also important for her, because they grew up together, and he's the one that more than any other knows Yuki's heart. Usually they spend the major part of the day together, but because of Zero's strong, tsundere personality, they always finish to have a discussion!


Anyway, they're linked by the common thread of destiny~
Kaname and Zero are the two most important persons for Yuki and we can say that her life and her choises are strongly affected by their existences, but it's not just this. She has a lot of friends that she loves and that she protects with all herself. Her heart is pure and her will is absolute, with or without Kamane and Zero.
Yuki will never be changed by someone, because she'll never accept a destiny that other people would decide for her! That's why even if she doesn't know who really she is or what is right or wrong to do, she'll always choose by herself who she wants to be, now and in future.
In fact, Yuki always try to believe in herself, because since she's surrounded by vampires she never know if what she finds is "the truth" or "the truth that the others want she knows".
This is the reason why, when she remembers everything thanks to Kaname, she doesn't know what and who she can trust.
She's Yuki Clan, Kaname's little sister, daughter of Juri and Haruka Clan, pure vampires that years ago were the most important people in the Realm of Vampires.
The reason why her memories were soothed are about Reed Clan, her uncle and the vampire convicted of the death of Yuki and Kaname's parents.
He didn't agreee about the cohabitation of humans and vampires, and Juri and Haruka tried to face him sacrificing themselves, but Reed didn't die, he continued to live in Kaname.
Yuki finds a truth that wil, change her life forever, and she'll force herself to live together with vampires in their world, leaving everything in the Earth, even her best friend, Yori-chan.
Her major sacrifice was renuncing to Zero, the person that she understands to love only when they face again each other as enemies.
But when Yuki understands that Kaname wanted to make her as a total, different person than she was, she turns against him.
Zero and her understand their feelings of love, but Yuki won't let Kaname die, or to be alone. Simply, she'll choose to fight in her own way, like the Yuki that she's always been.
Her pure heart and her strong wish of happiness for everyone will always make her able to fight with a strengthen that only who believes in tomorrow can obtain~