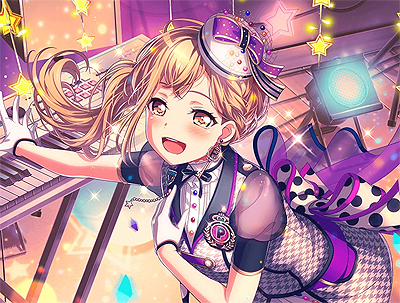 Date of Birth: October 27
Age: 15 years old
School: Hanasakigawa Girls' High School (1-B)
In charge of: Keyboard and Tambourine
Keyboard: Roland JUNO-Di
Image colour: Initially white, then purple
Height: 152cm
Things she likes: Games, Kasumi's songs, bath
Things she dislikes: Sunlight
Favourite food: Anmitsu, brown rice, boiled eggs
Hated food: Green onion
Other hobbies: Netsurfing, bonsai
Family: Grandmother, grandfather and mother
Blood type: AB
Voice actress: Itou Ayasa
    Arisa is a tsundere indeed. Her personality is often awkward because she's too shy, but she tries to hide this part of her showing a senseless sharp tongue with everyone. Ah, yeah, everyone with whom she's in touch with, because with strangers she tries to fake her personality showing a kind and cute girl. Instead, she's the total opposite and if you know her closer, you can easily understand what I'm saying. She usually talks with a bad language and she's prone to insult the others. As I was saying, anyway, she does these things because she tries to hide her real self. If she's calm and quiet, she's really kind and listens to everything the others want to say. She even gives her opinion about that. She's always ready to help the others even if she feigns to be annoyed.
    She fakes her friendship relations too, because even if she loves deeply her friends, she does her best to try to be above them and often says that "things don't concern her" or "she's not interested", etc. and then she's there, ready to do everything for them all.
   She has a very good relationship with her grandmother too. Her family runs a pawnshop called Ryuseido. In the novel it is stated that it is full of games like old arcade games and this is the reason why Arisa loves games.
   The reason why she tries to escape from the others is that she feels lonely and since she's introverted, she even thinks she can't be a friend with someone (but luckily there was Kasumi with her!). At the begin of the story, we can even see that she's very intelligent, a genius, but she doesn't even go to school. Before meeting Kasumi and her friends, she was just a shut-in girl who loved to take care of bonsai (she gives them all a name because she really loves them).
   She learnt to play the piano when she was a little girl, but she couldn't keep it up and gave up. She starts to play the keyboard in order to create a band with Kasumi and the others and she can finally be happy with them and with the music she loves so much.