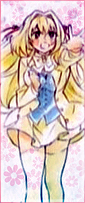 Name in kanji: エイダ=ベザリウス
Age: 18 (after that Oz came back from the Abyss)
Height: 1.66 cm
Seiyuu: Fukuhara Kaori
♡ At the begin of the story, Ada is just a little, cute child. She's Oz's little sister and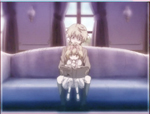 their bond is very strong. She's always by his side, especially when they play outside the house (thing that is forbidden there) and Oz is always there to offer her his hand (he's the kind of big brother who loves his sister and would make anything for her). She's very shy, but she's very friendly at the same time, and we can see it with Gilbert, to whom she will give as a present the hat that he loves so much.♥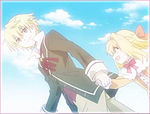 ♡ She loves cats very much, in fact at the begin she has one cat, Dinah, but when we'll see her again and she will be 18, she has two cats. When Oz comes back from the Abyss, it will be very difficult for both of them to see each other, but after crying a bit, they will continue to have their fantastic and deep bond of always even if Oz could try to think a bit more to her in the first moments XD.
♡ She attends the Latowidge, a school for nobles, where she is very well-known and,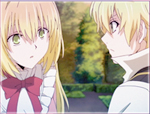 she knows Elliot and Leo, two characters that she points out to Oz who was looking for the people who played the music of his clock. From the moment in which she started to attend this school, she wrote to her uncle Oscar some letters and in one of them, she wrote that she has a crush on a man... that unfortunately is still unknown. Obviously, both Oscar and Oz are crazy about it and trying to solve the "case", they think she's in love with Gil, even if she tries to say that there's a mistake. ... .... ... I hope this is not a mistake! *__*
♡ The only person who seems to hate her is Alice, because she's jealous of Oz and of their relationship. In the 34th chapter, we see that she's dating Vincent... is this a case? Or is there something more?