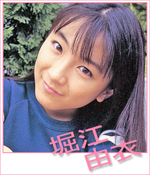 Name: (Horie Yoshiko )
Nickname:

Hocchan, YUIEL
Birthday:

September 20 , 1976 ( 1976-09-20 )
Origin:

Tokyo , Japan
Genres:

J-Pop
Years Active:

1997 –Present
Labels:

Starchild , King Records
Associated Acts:

Aice5 , Kurobara Hozonkai


Yui Horie (born on September 20 , 1976 ) is a popular Japanese singer and voice actress . Horie's real name is Yoshiko Horie (Horie Yoshiko) , and she is sometimes affectionately nicknamed "Hocchan" ("Hocchan") by her Japanese fans. She is not to be confused with YUI , another J-Pop singer.
She hosts a radio show called "Horie Yui no Tenshi no Tamago" ("Yui Horie's Angel Eggs") and is the founding member of the singing group, Aice5 . She is also a member of the band Kurobara Hozonkai, with the name YUIEL. Her blood type is , and her hobbies include shoulder massage, reading and food. Horie was born in Katsushika-ku , Tokyo, Japan . As a child, she was a huge fan of the anime series Dirty Pair and has later stated that the series was her first inspiration to become a voice artist. [ citation needed ] She debuted in 1997 in a video game Voice Fantasia and for several years had minor roles in various anime. She landed her first leading role as Haruka in Kurogane Communication . The turning point in her career wasn't till the year 2000, when she won the role of Naru Narusegawa in the popular anime Love Hina . Other notable and defining career moments were taking the role of Tohru Honda in the anime Fruits Basket in 2001, and releasing her 1st music album ( Mizutamari ni Utsuru Sekai ) in 2000. She has since become one of the most popular anime voice actresses in Japan.
Horie formed a temporary unit called Yamato Nadeshiko with the popular seiyu Tamura Yukari in 2001. They released two singles , Mou Hitori no Watashi and Merry Merrily - the latter of which was an insert song in the Love Hina Christmas Special. In October, 2005 she founded Aice5 , a J-Pop group consisting of 4 other seiyus, to help launch their careers. Aice5 was officially disbanded on the September 20 , 2007. She has collaborated with a few other artists, such as UNSCANDAL in 2005 and Kurobara Hozonkai a Japanese Goth band in 2007. She was employed by Arts Vision until mid-2007 due to a scandal within the agency's top management, at which point she left to become a freelance seiyu unaffiliated with any talent management firm. She has published 6 independent musical albums. Nearly all of them incorporate at least one track from an anime she has worked with. She currently releases music under the Starchild label (a subdivision of King Records ) Her radio show is "Horie Yui no Tenshi no Tamago" ("Horie Yui no Tenshi no Tamago") and can be listened to on the station JOQR (AM 1134 kHz) at 0:30am on Mondays.
( from Wikipedia )