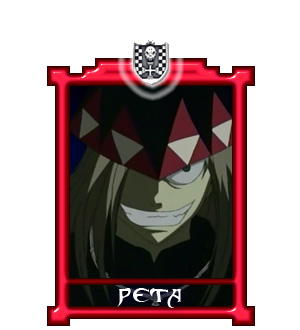 Peta is the second strongest Knight of the thirteen Knights of the Chess no Koma. He's always near Phantom and he seems to be one of his closest "servants". He has an evil and enigmatic character. He's often there to covet with Phantom and watching sadistically the enemie's moves. It was him who announced the begin of the War Games to the team MÄR. He seems to have the same skills as a vampire, and his ÄRM is a sucked-blood type. When Phantom died, fighting against Danna, Peta took away his body, so he could let him reborn where there will be the right conditions. During the time that Peta waited in order to see him alive again, he united again the Chess no Koma team, selecting them for six long years.

>> SPOILER <<
Peta and Phantom known each other for a long time, from when Phantom was still a human. The two of them, in fact, dreamt together to conqueer MÄR Heaven. When Phantom became a zombie, he did to Peta what Queen did with him, the "baptism" of the Zombie Tattoo.
Peta ordered to the Luberia's thieves to find Babbo, and bring it to him. But after that Ginta found it, Peta told to the thieves to stop the search. They refused to follow his orders and tried to fight against him, so he decided to kill half of them. Because of this, Nanashi, their leader, will do anything in order to meet him and take hir revenge, that will arrive during the last War Game, and it will end with Peta's death.
ÄRM: Magic Mirror Ring, Secure Death, Blood Body, Dark Reflector, Blood Syringe, Abyss Kanon, Garnet Crow, Body Eye.