Ω 12.




AN ANCIENT FAMILY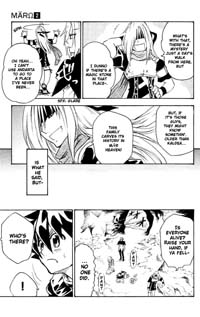 Kai and the others defeated their enemies, and now were about to go through a danger and rocky way with Nanashi, in order to reach a special place.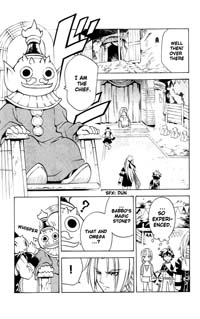 All began when the head of a statue told to the guys that OMEGA was the last forgotten stone; the OMEGA System was the only way to defeat and seal the power, something that nobody of them ever understood.
What they gain from that journey was Babbo's Magic Stone, unfortunately, there was no hint for his lost memory.
The guys came back to Nanashi, who explain them that probably, for find it, they need to ask to the ancient family of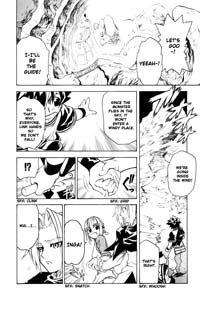 MÄR Heaven, that surely could do something for them, assuming that in Kaldea there were no informations about it. They went through a danger path, and once they reached it, they could talk with Pozun and the chief of his country, who told them that there was a place where it was possible to find Babbo's memory, but he wouldn't unveil it, because he was worried for his disappeared daughter, kidnapped two days before from a monster.
Kai and the others had no choice but to save the girl and bring her to her father, so they can finally gain the informations that they need. Nanashi didn't left (a female version of Pozun didn't attract him), but with Kai, Inga, Elisa and Babbo, there was Pozun, who bring them to the place where the monster lived. The ex-refree of the War Game took the chief's daughter, but in the meanwhile, the feared monster go after them, without made any sound.




















































Marchen Awakens Romance (MÄR Heaven) by Nobuyuki Anzai, anime by TV Tokyo, all rights reserved.
This is a fansite, we don't intend violate those rights.
marheavenj.net since 17.07.2006 (c) 2006 Diana & Dorothy Vietata la riproduzione anche solo parziale.