Ω 10.




BABBO'S MAGIC STONE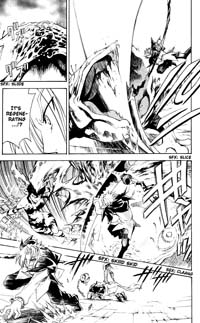 Nanashi was trying to go on and make all easier for Kai and the others, that in the meanwhile, entered in a place where they thought to find Babbo's memories.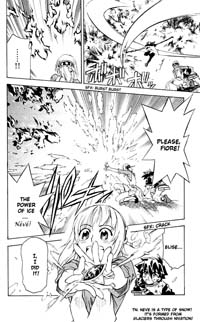 Inside a container, there was a Magic Stone, and the guys thought that it was the thing they were looking for. Inga told to Kai to take quickly the stone and run away, but unfortunately, it wasn't possible, because there were Gelda and Mollusk who were waiting for them; the two goons sent by Atomos, that with their Guardian, fought against them.
Mollusk acted like an arrogant, and affirmed that the Fake ÄRMs won't ever be defeated by the original ones, because the second ones were weaker. He throw his Guardian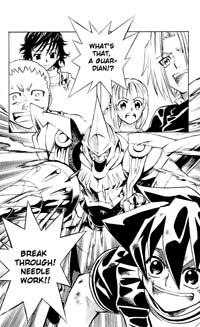 Salamander, against Kai. It was a big fired frog, that hit the boy and then fight against Inga, that, in order to protect Kai, put himself ahead of him, trying to cheer him in order to take the Magic Stone, and run away. Even Gelda took part in the battle, and fight with her Guardian Flauros, that put the boy in danger. The two of them tried again to kill Kai, but luckily there was Elisa, who helped him, using for the first time Fiore, her Nature ÄRM that could use the power of the four elements: fire, water, earth and wind. This was the ÄRM that Dorothy gave her as a present and now she can use it in order to help her companion. Elisa knew that their journey had just begun, so she couldn't be defeated there; anything will happen, she would go on!
Finding again his courage, Kai run and took the Stone, and without wasting time, he put that in Babbo's hammer, understanding that it wasn't Babbo's memory, but a Magic Stone, that allow him to make an evolution. Babbo suddenly become a big centaurus, with an armor and a lance, that, under the shocked faces of all, was about to defeat all the enemies. It was Needle Work, Kai's new Guardian ÄRM!!!




















































Marchen Awakens Romance (MÄR Heaven) by Nobuyuki Anzai, anime by TV Tokyo, all rights reserved.
This is a fansite, we don't intend violate those rights.
marheavenj.net since 17.07.2006 (c) 2006 Diana & Dorothy Vietata la riproduzione anche solo parziale.