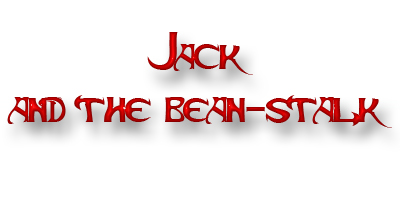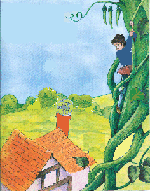 Did you remember when you were children and your grandmothers were telling you the story of Jack? No? Well you are quite alike me XD! Reading or watching MÄR did it not remember you a person who was climbing on a huge beans-stalk in order to arrive in the sky? Well, this is the story of Jack and his beans-stalk, who, like the hero of the series, is trying to avenge his father's death.
Anzai is probably inspired in the story of the anonymous author who leaves us his tale in a publication of Benjamin Tibart, entitled "The History of Jack and the Bean-Stalk".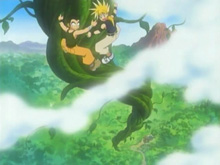 This story is similar to the one of our Jack: same personality, same fears, too many similitudes with the family too.
The story of Jack, the character of the book, is totally centred on his revenge against a giant who killed his father. His mother is very thoughtful and loves her son, and he, even if fearful, from the beginning of the story tries to complete his purpose and in the end he is rewarded with the death of the fallen giant from the beans-stalk, cut by Jack with a shovel.
As we well know, also the Jack's father of MÄR was killed by Veezle (even if more than a giant he seems Santa Claus XD), and from the beginning the boy was a fearful one he did not know what the courage was, but then, thanks to the help and to the support of the mother and his friends, he gives his best to avenge the father and get so strong that he can make growing his Hearth Beans up to the sky.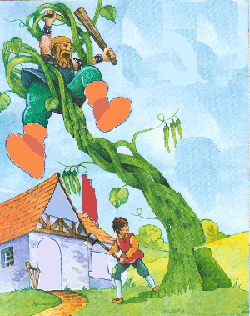 So, at the end of the stories, both the Jack came true their wishes, and the beans-stalk have been fundamental. One used it to kill the giant, and the other to aware that his potentialities had become very big, and he was able to become as strong as his gone father.
The happy end is sure for both the parts. The Jack of the fairy-tale goes back home with the mother and, having stolen some precious objects to the giant is now able to enrich his family. The Jack of MÄR, comes back proud to his the mother, and after fought every combats, not only during the War Game, he come back home also with a girl that loves him and that will do everything to make him happy.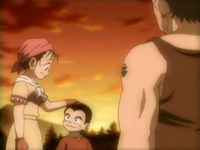 It did not seems that the story of Jack, apparently the most unlucky of all, could been one of the most interesting and happy, maybe Anzai aimed to this to make us understood that the appearance isn't important, but the feelings make the person very lucky.