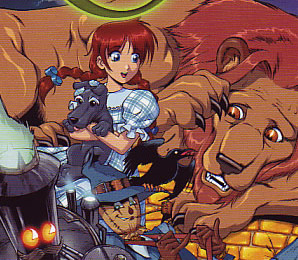 " Once upon a time there was a little girl with the plaits, called Dorothy.
She was living in Kansas with the her uncles and Toto the dog, one day happened that Dorothy's house arose and the little girl was found in the land of Munchin, with her doggy..."
Eh? What did you say? Am I talking about another story? Maybe not…
It is the most famous novel for children of L. Frank Baum, The Wonderful Wizard of Oz , illustrated by W.W. Denslow.
It narrates the adventures of the little Dorothy, which with his doggy and the strange companions of journey, met in the Land Of The Munchin , travelled to Emerald Town , looking for the legendary Wizard of Oz, the one who can bring she back at home.
This is a short introduction of the story which our nice Anzai-sensei took inspiration from to create our favourite heroine, Dorothy.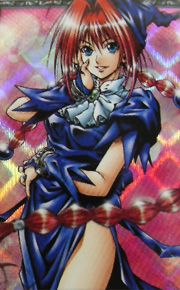 The reference to her is clear, but Anzai-sensei enjoyed to manage and recreate a character almost totally different from that one he was inspired, and the result was that starting from the little girl with the silver shoes fighting the perfidious Eastern Witch, he created a little witch, whose Dorothy kept just name and the plaits, as it seems that our heroine is all except an undefended little girl desirous to find shelter and company in those strange characters which follow her in the long journey.
Nice expedient that Anzai's one, he created a kind of "parodies" of the old one Dorothy, making a modern and sprightly one, pretty and cutting but sometimes mad and pitiless. Toto is also changed, and from meek and faithful doggy of the young protagonist, turned into ferocious and powerful Guardian ÄRM of our Dorothy, Raindog, and she simply (and obviously) calls him Toto (that is also her favourite ÄRM).
Our Dorothy is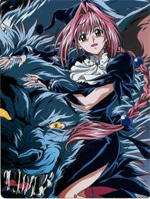 surely strong and self-confident, she uses magic to defend and attack, and as every good witch, she owns a broom and she is able to make fly a whole house just if she wants (maybe was up to her that the house of the little Dorothy arose with her Zephyroth Broom! XD)!
But her journey companions are not a tin woodsman, a scarecrow without a heart and a funk lion, they are now an amount of bishounen (considering the oblivious exceptions) and the very sweet Snow.
Here is a way how a character can be radically changed, enriching with values and flaws, showing both human and wicked sides, contributing to make ours Dorothy much nearer "a human being" than she was not her "glass shape", that Anzai-sensei has immediately painted of the luminous and solar tones which he was able, never disdaining to show that also the sun has another face and besides lights there are also shades, those same shades whic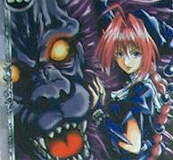 h wrap the people, but to the same way release them,
like in every day life.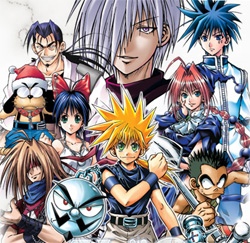 What is the moral of the story?
Who leaves the old one for the new one, often he does not know what he finds, but we can affirm for sure that if Anzai-sensei do it, then we will certainly find something good.




















































Marchen Awakens Romance (MÄR Heaven) by Nobuyuki Anzai, anime by TV Tokyo, all rights reserved.
This is a fansite, we don't intend violate those rights.
marheavenj.net since 17.07.2006 (c) 2006 Diana & Dorothy Vietata la riproduzione anche solo parziale.