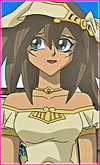 Mana is one of the main characters of the last seasons of Yu-Gi-Oh!, Pharaoh's Memory.
She's an outgoing, caring and crazy girl that always try to do her best in everything she does. She's an apprentice magician and her master is her beloved Mahado, one of the Pharaoh's priest. The fact that she's an apprentice doesn't mean that we'll see a perfect magician, in fact, Mana is not very good at it, and at the begin of the series, she still has to read the book to remember the spells.
She has a strong personality and is always direct with everything, especially with what she thinks about the others.
Mana is a very close friend of the Pharaoh. They spent the childhood together and still they trust each other very much.
Going on with the plot, Mana will become always more a stronger magician, especially because of the death of her master: she will swear to become powerful and to protect Atem with her powers. From that moment on, she will start to train as much as she can.
When Yugi and his companions will meet her for the first time, they will think of the Dark Magician Girl (that is pretty alike her, apart of the colour of the hair). We will find out soon that she's the same person they're talking about, at the beginning of her career.
Once she'll become powerful, she will help the other Priests to fight against Zorc, when she will be able to summon her ka, that is the Dark Magician Girl.