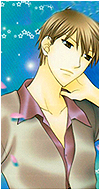 Name: Kanade
Surname: Miyako
Profession: Universitary Student
Position: Sakuya's cousin
Kanade sheltered Sakuya after she was given up by her father; he and Sakuya are cousins (Sakuya's father is the younger brother of Kanade's mother). He is an artist (potter) and university student, but has made few friends and is apparently "taking a break", according to Sakuya. He is presented as a lazy and difficult person, making people younger than him (like Sakuya) work. Sakuya defends this behavior, as she doesn't mind working and because Kanade saved her. Despite this, Sakuya is very important to Kanade. After struggling with himself, Kanade decides to get a regular job as a construction worker to show some responsibility towards her.