ABOUT HIYORI
Thanks to Milly for the english translation! :***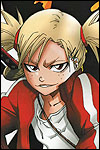 She's hot-headed, always in conflict with Shinji.
Even though she has an aggressive and balls-up personality, she's very immature. Often takes important choices for the others too, with her own will, but without be wrong. It's her that let Ichigo understand how to dominate his Hollow part and ow to live with it. Her apathy in his confront becomes a friendship feeling, even if she won't ever admit it.
SPOILER
100 years ago, Hiyori lived in the Soul Society and was lieutenant of the 12th Division. Her Captain was a woman called Kirifune, who was soon sobstituted by Urahara Kisuke, because she granted in the Royal Guard.