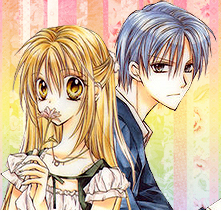 The love story between Haine and Takanari is very tormented because of several misunderstandings they had. At the begin it seemed to be love just from Haine's side. They already knew each other, but she was the only one who wanted to protect him and that venerate him in order to become his girlfriend. This was because for her, Takanari (eeer... Shizumasa XD) was a saviour, the person who totally changed her life when she needed. In fact we see just see a girl in love and a boy that tries to deny her, and it happens a lot of times. After seeing all this determination, Takanari will be engaged with her, who becomes his Platinum... and knowing better each other, even he will start to love Haine. What the boy was looking for, was a serious girl, who would love him for what he was - that's why he was enraged from the fact that maybe Haine could love him because she saw his father in him.
    The main matter will be the presence of his twin brother Shizumasa. In fact, Takanari is just a substitute of his ill brother, and everything he makes is just for him, even the relationship with Haine should belong to him. Takanari, anyway, wanted to explain the truth to Haine before that she understood it alone, but during a date, they will meet Shizumasa and things will start to be not that clear for the girl. Who was the person that she met all the times? It was Shizumasa the one who consoled her, but it was Takanari the one who wrote the book that she loved so much; and after that he gave her his treasure (that were the sheets where he wrote it), she understood that every doubt was unfair: the person she loved was Takanari. But it was too late, since he was imprisoned by his granfather and the party for her official status of engagement with Shizumasa had already been fixed.
    During the party, Haine will know from the twin's mother the truth about what happened when they were child, so she decided to free both of them from their past, finding both the stones that were lost in the garden of the Tougu's mansion. In that moment, Shizumasa needed help because his illness became too serious, and it is explained that his will was to leave everything he left to his brother, that was the person he loved the most. Takanari will help him to recover and in the meanwhile, Haine will complete her mission. ❤ The love of the two lovers will prevail, and at the end of the story, they will get married and will live together with Shizumasa, who will recover through-and-through. With this end, the two of them could forever live happily, because they haven't just loved each other and fought for their love, but they understood the real meaning of "Love" and "Family".