Always sure of herself and eccentric, Dorothy is a powerful witch. She has many strong ÄRMs and a big powerful soul, she isn't second to anybody in the MÄR team (she's the only that, apart Ginta, never lose a match) and she can win against his enemy even in a desperate condition. She comes from the Realm of the Magicians, Kaldea, she's driven by the desire to complete her duty, gave by the wise of her Land, the one to kill Queen, the Chess no Koma's queen, who caused the ruin of MÄR Heaven.
Even if it can seems that she has a strong and decided character, Dorothy is really a sweet and sensitive girl, who never shows her tears but in desperation moments. She's heartless with her enemies and for her that's not a problem to kill them, but she isn't bad, at the contrary, after that she promises to Ginta that won't kill anymore, she lets every enemy alive, as an exception for those one who can't remain alive.
Sociable, but not that much, she's never whole "part of the group" and often she remains alone. She has a particular interest for Ginta, whom attracts her for his charisma and for his spontaneity, and often she hugs him and make him plenty of kisses, calling Snow's jealousy, from who Dorothy's jealous.
She has a big sense of duty and she never let what she does in a middle way, she's always very precise and even he not always loyal, she knows how to let respect her from the others.

ÄRM: Ring Armor, Toto (Raindog), Zephyroth Broom, Crazy Quilt, Ring Dagger, Brikin (Rock Giant Golem), Flying Leo, Zipper, Andata.

NANASHI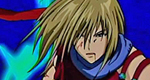 Nanashi is one of the most mysterious characters of the series, whom we know just a bit, although in one battle he fights against Galian, a key-figure of his past.
The Boss of the region of Luberia, Nanashi leades the team of the thieves, that have sweared revenge against the Chess no Koma, and he entered to the MÄR Group in order to fight against them and revenge the death of his allies, provoked by Peta's blood-suck ÄRM. His character is sociable and funny. Nanashi is a very hot tempered boy, who doesn't lose the occasion to appreciated the beautiful girls (girls are Nanashi's passion, also if he seems to have a real love-affair with Dorothy) and he joke, often off the contest. It doesn't seem, but Nanashi is a real kind and sensitive boy, who always worries for the others and he acts in the respect of his friendsand enemies.
He's very strong and brave; he never stops and he always follows his heart, in every circumstance. Beyond the big ability to use the ÄRMs, he has a big phisyc strenght, that allows him to defeat his enemy using also his hands. He can hide his magic force, and for this, sometimes he's understimated from his opponent, whom already understand how Nananshi is strong.
He hides his face under the wrap that covers his eyes, and a bandana, peculiar of the thieves, for this, he always seems to have a soft air, but he's very intelligent and careful. There are some moments when he reflected with big seriety and supports his friends.

ÄRM: Electric Eye, Crystal Balls, Andata, Griffin Lance, Thousand needles