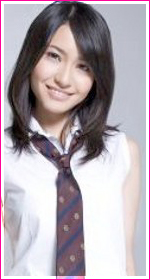 Name: Megumi Nakajima (中島 愛)
Birthday: June 5, 1989
Birthplace: Ibaraki, Japan
Blood Type: A
Height: 157cm
Hobbies: Reading, Shopping
Special Skill: Making candies, Baking
Favorite Artists: Mariah Carey, Earth, Wind & Fire, Nomiya Maki, Ekuni Kaori, Oonari Yuuko, Okamoto Tarou, Brigitte Bardot
Megumi Nakajima is a seiyū and singer under the Stardust Promotion talent agency. Born of a Japanese father and a Filipina mother, she was brought up in a "house filled with music" and grew up with the desire to sing. In 2003, she participated in the "Self Stardust Promotion" contest and passed, thereby affiliating her to the agency. In 2007, she auditioned to the Victor Entertainment sanctioned "Victor Vocal & Voice Audition" and won the role to voice Ranka Lee in Macross Frontier.
She made her debut performance as a professional artist at the "Macross 25th Anniversary Concert" on April 18, 2007. Her first vocal recordings appeared in the compilation album Macross Frontier O.S.T.1 Nyan FRO. on June 4, 2008. Her first solo live performance was a mini-concert entitled "Ranka Lee = Megumi Nakajima Mini Live @ Formo… Not! Venus Fort☆" (ランカ・リー=中島愛 ミニライブ@フォルモ…ぢゃないよ!ヴィーナスフォート☆ Ranka Rī = Nakajima Megumi Mini Raibu @ Forumo... Janai yo! Vīnasu Fōto☆) which was done on June 14, 2008. She made her single debut in June 25, 2008 with the single Seikan Hikou. Her first major concert was the "Super Dimension Super Live" (超時空スーパーライブ ,Chō Jikū Sūpā Raibu?) concert held on July 27, 2008.
She won the award for Best Musical Performance in the 3rd Seiyu Awards held on March 7, 2009 for her performance as Ranka Lee in the song Seikan Hikō of Macross F.
Tenshi ni Naritai was her first single in 2009 and the first single to be released outside of her role from Macross F. It was followed up by the single Nostalgia two months later.
From Wikipedia