Ω 13.




THE DRAGON OF MÄR HEAVEN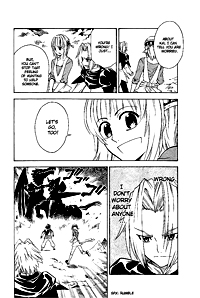 Kai and his companions finally found Polarino, daughter of the chief of Pozun's city, and this last one could told them the truth: Babbo's memories weren't in that place.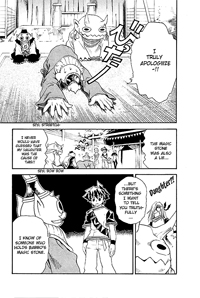 Kai and the others were shocked, why did Pozun told them a lie? For one time the monster was truthful; he told a lie because he desired to save Polarino, but he didn't know how to do it, and he knew he wasn't strong enough. Kai could felt his feelings, he knew what meant that, and so, he decided to help him with Babo (evolved in Needle Work), Elisa, and in a second moment Inga, so he defeated the dragon that caught the chief's daughter.
Inga was a bit disappointed from Kai's reaction, and Elisa tried to explain that Kai felt Pozun's feelings and he need to help him because of that, but the boy was too shy to admit that he was worried for his friend, and told her to shut up, telling that he din't want it to know it.
Once they came back to the chief, this one asked him to forgive him. He had neither the magic stone nor the informations that could be useful to find Babbo's lost memories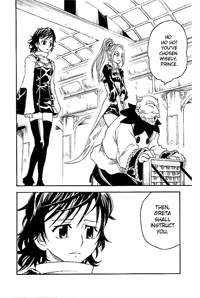 , but it doesn't mind to them, because they know why they fought and were proud to gave again the daughter to his father. Now their goal was to come back to a journey in order to find Babbo's past, and to do that, they accepted a pick-up from the dragon that protected Pozun's city, that even if he didn't admit it, would do something for them.
In the meanwhile, in Palady, a country in the seaside, a prince views some ÄRMs that a seller shows him, explaining that in this period they were absolutely necessary, because someone took Babbo, the ÄRM used by Ginta and by Phantom in the past, and he was going to start some battles in all MÄR Heaven. The prince, curious and fascinated from all those trinkets, decided to buy them all, even if he doesn't know how to use them. The old seller was satisfacted and had the right answer to the problem: Gelda will teach him all about them. She was one of the girls that he had with him and who was watching the dealing with a sad and melancholic glance.




















































Marchen Awakens Romance (MÄR Heaven) by Nobuyuki Anzai, anime by TV Tokyo, all rights reserved.
This is a fansite, we don't intend violate those rights.
marheavenj.net since 17.07.2006 (c) 2006 Diana & Dorothy Vietata la riproduzione anche solo parziale.