Ω 8.




BABBO'S MEMORY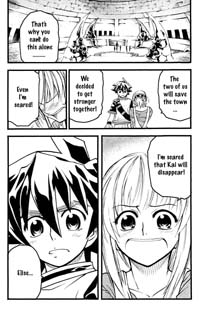 In order to defeat Unwetter and his fake ÄRMs, it was necessary that Babbo found his lost memories, but that would be possible just he he went into a journey, because the places which had them were too many.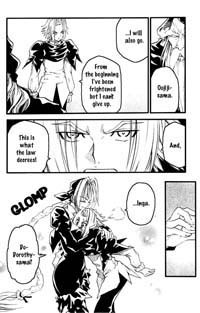 Alviss couldn't take him because he had to talk about all in the Cross Guard's general quarter; Dorothy couldn't because now that the carrier was destroyed, she had to protect Kaldea; Babbo would go there all alone? Surely not, the one who offered to protect and support him was the brave Kai, who didn't have the will to go back in front of this journey. If Kai would go, Elisa will follow him, but he didn't agree, because he was warried that something could happen to his childhood friend. But Elisa was worried for the same thing: who would make her sure that Kai won't disappear? The girl was unflexible, she made her decision. Even Inga intended to go with them, at the end, he just observanced the law.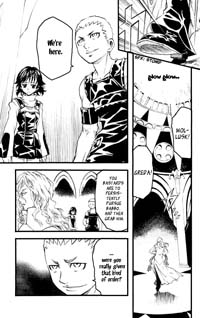 Dorothy undertone the boy's reasons, who desired to protect the two guys, so she hugged him and let him promise that he would be careful, and in a second moment she made the same thing with Kai and Elisa, that she hugged. The first place where the guys would go was Luberia, the country of the thieves, but a place where they would found an alley, that Dorothy presented as "that idiot", he was Nanashi.
While the guys were about to go on journey, Atomos, Unwetter's envoy, reported to his boss. Unwetter wasn't happy because he didn't receive Babbo in that moment, and after that he punished the man and warn him about his waste of time, he told him to take some companions and to send them to catch the prey, because in contrary, he won't make any problem to kill him. And so Atomos did it, and called Gelda and Mollusk, two guys who seems to be defenceless, but he count on them, giving them the mission. In the meanwhile, the others reached the general quarter of Luberia, but the place seemed desert...




















































Marchen Awakens Romance (MÄR Heaven) by Nobuyuki Anzai, anime by TV Tokyo, all rights reserved.
This is a fansite, we don't intend violate those rights.
marheavenj.net since 17.07.2006 (c) 2006 Diana & Dorothy Vietata la riproduzione anche solo parziale.