Ω 6.




UNWETTER'S ENVOY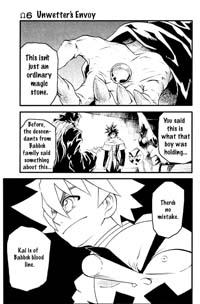 Kaldea's old man was telling to Kai that his Magic Stone wasn't that normal, because it was owned by Babbo's descendants, and because of the fact that he can use it, there's no doubt that he and Babbo have the same blood.
Suddenly, there was an explosion, someone soften the barrier that after Phantom's attack, six years before, was done in order to protect Kaldea.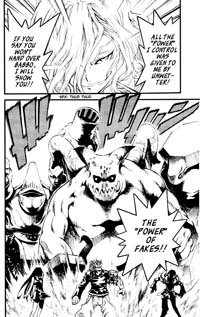 It was a Fake (a Fake ÄRM User), with a mysterious man, who wanted to talk with Kaldea's old man.
Dorothy, Alviss, Kai, Elisa and Inga went to that place as fast as they can, and there they find the two men.
The one who talks before, was a good-looking man, with light eyes and hair, he introduced himself as an Unwetter's envoy, and his duty was to steal Babbo. He had as arms three Fake ÄRM User, that had the skill to fuse together their Guardian ÄRMs, creating a huge one of them.
The barrier was totally destroyed, and the three Fakes, which were manipulated by their ÄRMs, should sacrifice their lives in order to reach the victory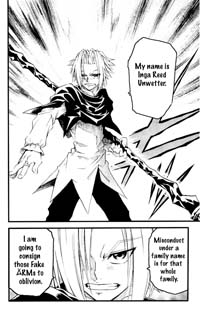 .
Unwetter's envoy was smiling like a fool, thinking that all that was happening was wonderful, and using that kind of power was marvellous and usning the other's lives in this way was enthusiastically.
Kai was very angry, people lives are important, nobody should try to play with them!! Babbo agreed with him, disobeing to Dorothy and Alviss, that were going to attack the crazy man, so, Kai attack with Babbo, that was rejected by the Fake's Guardian.
Kai seems done for, when suddenly Inga took part of the fight with his Weapon ÄRM Sicke of the King of Darkness, a beautiful scythe with which he cut the Guardian's arm, saving Kai.
The boy wanted to thanking him, but Inga said that it was a misunderstanding, because he wasn't there to save him, but for a personal reason. His real name is Inga Reed Unwetter, but in spite of his surname, he hate his family and his goal was to destroy theFake ÄRMs, and the same was for his creator.




















































Marchen Awakens Romance (MÄR Heaven) by Nobuyuki Anzai, anime by TV Tokyo, all rights reserved.
This is a fansite, we don't intend violate those rights.
marheavenj.net since 17.07.2006 (c) 2006 Diana & Dorothy Vietata la riproduzione anche solo parziale.