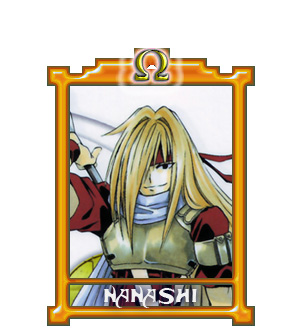 After six years, Nanashi isn't changed at all.
He's always kind with the girls, even if it seems that he's more on Dorothy's regards. In fact, it's thanks to the promise of a "compensation" that he accepts to help Kai to find Babbo's lost memories, and because of this, he does his best, acting as an older brother.
He's the character of the old series that is more characterized in Omega, and even though the ÄRMs that he uses are the same, he uses them in an easier way and combines their characteristics.



ÄRMs: Electric Eye, Crystal Balls, Andata, Griffin Lance, Thousand needles, Aegis