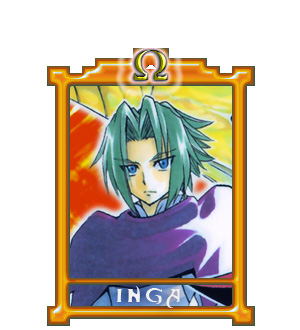 With a diffident and introverted character, Inga is a very snuffy person, that seems to be not very approchable. He has a big sense of duty, that allows him to fight against Kai and with whoever don't respect the law, but he hides his painful childhood, that ties him with Unwetter and the Fake ÄRMs. At the begin, he's against all the ones that in the future will become his companions. Inga is very good at using the ÄRMs, and becomes essential in order to reach the goa of his teaml: the one to find Babbo's lost memories and destroy the Fake ÄRMs.
Besides, he's the Royal Guard of the principal palace of Kaldea, and Dorothy entrust him very much. She's very affectionate to him, and treats him like a son. After undestranding that for finding the answers, it is needed to join Kai and Elisa's group, Inga leaves with them and starts a wonderful journey that will bring him to change his conception of the world and to reveal his feelings, learning to see the good part of all the things.
>> SPOILER <<
Inga's real name is Inga Reed Unwetter.
His family was shamed because of Unwetter, who, creating and promulgating the Fake ÄRMs, was a lawbreaker and because of that, following Kaldea's law, he should be killed from a relative. Inga hates all of this and he grew up with hate and revenge, trying to show that, at the contrary of his relative, he would be a correct guy, stopping all the crimes made by his family. In the meanwhile, his character changes and thanking to Kai and Elisa, he menage to become more kind and sweet; above all with the girl, with whom he has a crush, even if he tries to hide it..