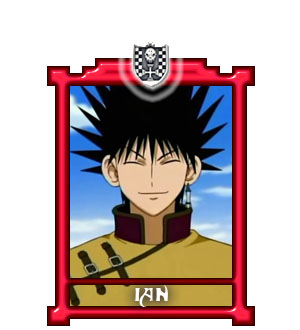 Ian is one of the most brave and full of his own free will characters of the series.
At the begin he joins the Chess no Koma in order to clean the world from people who soil it, defending the weak ones and his country. So, from the level of Pawn, he becomes quickly a Rook. We see him for the first time in the Frozen Castle, but we soon find out that he loves to joke around and making fun of people, even if he does it without bad goals. He's a very serious person who tries to end all the kind of works that are assigned to him, fighting with temper even if he's in trouble. It seems that nothing can scare him, and he would do everything he can for people he loves, as for example, with his girlfriend Gido. In fact, he joined the Chess no Koma with her, but though she remained a simple Pawn, he continued to exceed in everything he did. Their dream was to become Knights and to be Phantom's favourite ones.
He usually wears a mask that makes him unnerving even if he's a golden boy.

>> SPOILER <<
During the second fight against Ginta, he's reprimanded from Halloween, who forces him to do what he asks because, if not, he wil torture his girlfriend. When Ian found out what he had done, he went crazy and tried in every way to freed Gido from the curse made by Chimera. From that moment on, he is resentful towards Ginta, because if he wouldn't defeat him during the first battle, Gido won't follow him the time after. After that time, Ian tries to train himself more in order to become quickly a Knight; and he will menage to do it fighting against Rapunzel and cutting off her head in few seconds. When, during a match, he fights again against his arch-enemy Ginta, he finds out that what he was doing is wrong, and overall, being a Chess was wrong. So he throws away his ear ring that connected him to them and decides to give all himself to resque Gid, not as a Knight, but as her man.
During the last match of the War Game, Ian introduces himself in the fight of Dorothy and Chimera, defending MÄR's girl, but he's obviously chased away by Dorothy with a puch (in the anime it is a kick).At the end of the match, he runs after Chimera up to when he finds her to fight against her in a match that he can't lose. Defeating her, he could destroy the ÄRM that connected Gido to the curse, becoming again a human, when he hugged her tightly.
ÄRM: Python Whip, Octopus, Healing Angel, Moon Fall, Octopus II, Akuma no Kizuna, Nageki no Hundo, Arm Brake, Periunton