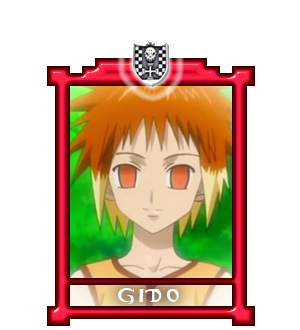 For the Chess no Koma, she's a pawn. She's a very tender and cute girl, always quiet and supports her beloved Ian with all her heart. They're lovers from a long time, and they became part of the Chess together, because they wanted to become Knight and make something good for the world. Unfortunately, Ian will be the only one who will go on, becoming a Rook, but the girl will always have in her heart the dream to follow him and become strong as him.
In her first apparition, she's saved from Ian, that, in order to save her life, gives to his enemy a Holy ÄRM, with which, before the exchance, he cured the girl.

>> SPOILER <<
She has been cursed from an ÄRM of Chimera because she was with Ian when he fought against Ginta without authorization. Chimera made of her a corpse without a life, she doesn't have her lower part of her body either, that became something horrible.
After that Ian becomes Knight and fights against Chimera, winning, he destroys the Darkness ÄRM with which the girl has been cursed and saves her.
Then, in the anime, Gido lives with Ian and take care, together with Ash, of an orphan group. Her relationship with Ian is very tight and they always try to kiss each other, but they're always interrupted.