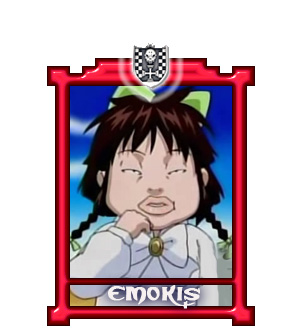 This plumpy girl is an arrogant person who considers herself beuty and loves to degrade her opponents (if they're cute girls), telling them to be ugly.
SHE'S SURE of what she says, and her psychosis is confirmed from her ÄRM Dandalcia, a sword that indulges her in all what she says about her beauty, and to her question "Who's the fairest of them all?" , it obviously replies that it is her User.
Emokis' personality is undefinable, she's proud and she doesn't give up even if she could die, her obsession for the victory and the beauty are the basis of her life and, though she's a Bishop, she tries to be brave, but she's nor like that, neither one of the best Bishop, as others say.