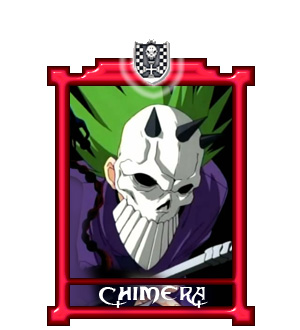 Powerful member of the thirteen knights of the Chess, Chimera is the most pitiless enemy that you could ever meet. Seemingly terrifying, it doesn't seem to be a human and it doesn't seem that it has good feelings, it kills without saying a word, and hiding its face under an awful mask. It beats Gaila up during the selection of the War Game and it seems that it isn't that loyal. Its power is higher to that of all the Knights, apart from Phantom and Peta; during all the series it remains an enigmatic character, whom is possible to understand only after the final match of the War Game, where it fights against Dorothy and reveals its true nature.
>> SPOILER <<
In truth, Chimera is a woman, her real name is Irene, but she became a monster after that she lost the person that she loved. Six years before, at the end of the first edition of the War Game, the young girl was about to get married with the man that she loved, an ex-member of the Chess no Koma. But when they were on the clubs, the man was taken away from some of the Cross Guards, and he told to the girl to wait for him, because he would be back soon. But it won't happen, even if Chimera went everyday in that church to pray for him. One day, while she was praying, the men who took Marco away returned there because they would give her the last thing that remain of her lover: a finger with the wedding ring. The woman couldn't believe to her eyes, Marco, the man with whom she would live happily, was dead Unhappy, the Cross Guards were angry with her too, and decided to disfigure her, so that, disrepated, the girl didn't commit suicide just because she met Peta, who told her to join the Chess no Koma in order to avange herself of all, and the girl agreed.
It was Peta who gave her the ÄRMs and to call her Chimera (because with a Ghost ÄRM the woman changed her body in a real human-ÄRM), he promised her a future in the Chess no Koma. From that moment, the girl changed radically and it didn't remain nothing of human in her own. Following Halloween's order, she cust a curse on Gido and let her become a monster, but after she got lost against Dorothy and afterwards against Ian, she came to her senses and understood all the wickedness she did. Leaded from the disperation, when she was about dying, she gave to the boy the ÄRM with which she cursed Gido and died, thinking to how much she'd like to be happy with her husband, and to how those guys could be now.