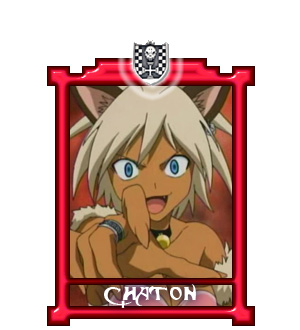 Aggressive and cheery, Chaton is a Bishop of the Chess, and when she fights, she shows all her determination aiming straight to her opponent.
When she appears for the first time, she defeats Aran, proving that she's a very strong character both physically and psychologically, even if her victory didn't happen just due to her strenght, but because of Aran's cat-phobia! XD
She's always lively and affectionate, she doesn't have any problem to show her real emotions, even to her companions. Probably because of her cattish features, she's attracted by the cats and by all the things that are related to animals. She acts like a cat herself, putting always a "nya" at the end of her sentences, wagging and licking her hands, as if they were paws.

>> SPOILER <<
During the match against Aran, she kisses him, killing him psychologically, and probably she has a crush on him. During the last match of the War Game, when Ginta uses Puss in Boots, she's very happy.
In the anime, Chaton is a very important character, she's present until the end, and she betrays the Chess in order to help the MAR bacause she's in love with Aran and her desire is to remain with him. Her relationship with Loco is very tight, the two of them are always together. When Loco turns into a child, Chaton decides to take care of her and act like a mother. At the end she will realize her love dream with Aran, creating a family with him.