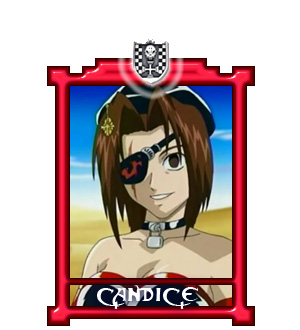 Even if she has a provocative look, she's a bipolar girl and, overall, is in love with the First Knight Phantom, who doesn't seem to feel the same for her; even though he treats her kindly, as he usually do. It seems that she lives in a world all for her, where Phantom is her prince and she's the princess that's looking forward him. When it's not something related to Phantom, Candice is totally different. She has a strong and furious character, and we can see that she usually quarrel with her own companions of the Chess.

>> SPOILER <<
Candice shows her real self overall during the match with Jack, that's in a sand field, a place where she can use very well her element, the stone. She has an absurd personality, masochist and sadistic at the same time, who prefers to be hit carnally from her enemies and from herself's strikes, hurting herself and delighting because of this, that's what Candice is. She won't win against Jack and the end of the match, she's afraid to tell to Phantom that she got a draw, but with a smile he forgives her, telling to don't worry about that. A Candice's peculiarity is the bandage that she has in her right eye, where under it, she has an ARM, Gorgon, which can charge all in stone.
At the end of the manga, we see that she waits with Phantom until his death, and after that we don't know what she did.
In the anime version, she tries to take him in a place where no one can find him, and when the MAR find out where they are. she fights for her love, but at the end she understand that that's the right thing, and she goes away from he island where they where hidden.
ÄRM: Stone Axe, Boulder Fang, Grand Boulder, Gauge of Blessing, Gorgon, Lamiar