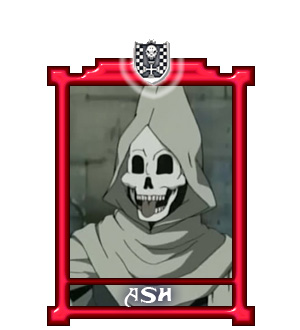 Ash is one of the thirteen Knights of the Chess no Koma, and even if it doesn't seem, maybe he's the most "human" of the faction.
In fact, the man loves the children and he's with the Chess just because he'd like to use his power to stop all the wars and to save the innocent lives that dies everyday.
When he fights his battle in the War Game, he chooses to fight against Ginta, and don't just because he loves the children, but because he'd like to let the boy understand that if he want to fight Phantom, he would die, and in order to save his life and the ones of the people he loves, it is needed to stay with the Chess.
Ginta refuses, and fighting against him, he shows him that he's not less strong than Phantom, and he has a dream, because he wants to protect MÄR Heaven and his inhabitants, not just the children.

>> SPOILER <<
Even if Ginta shows Ash his right reasons, the man decides to remain in the Chess no Koma, because he will continue to think that even if he's in the wrong part, he can protect the innocents that he loves.
In the anime, he lives with some orphans and he takes care of them with Ian and Gido. In the TV series, he's killed by King, but at the end he comes back thanks to Ginta.
ÄRM: Split Part, Shadowman, Pscsho-Sphere, Walking Bomb, Death.