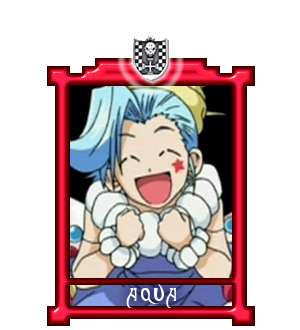 Likeable and cute, Aqua is a sweet girl who doesn't mince her words. She's a Bishop and she's very childlike. When she presents herself to the MAR, she gives quickly a strange impression because of how she acts: for her way to talk sincerely and above all, for her shrilling voice. Because of her extreme sweetness, she has been defined a "Buri Buri" from Babbo. As her name says, her clothes have something related to the sea, and particularly to her ÄRMs.
Because of her easy-going character, she noticed that the MÄR team was full of handsome boys, telling something about that to Alviss and getting scolded by Rapunzel.

>> SPOILER <<
She fights against Nanashi, who, at the end of the match acts as it is a draw (or Rapunzel would kill her). The girl was very grateful to him, but when she arrived in front of Rapunzel, even if she hadn't lost, the old bag force her to do "rock, paper, scissors" and if she lost, the Knight would kill her. Luckily, Aqua wins, but she's pierce trough Rapunzel's brother, Gillom, who kills her without pity.
At the end of the matches, Nanashi takes her and let her body plunge in an iced lake.