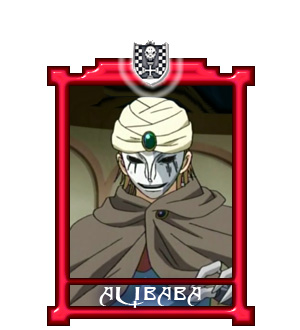 Arrogant and full of himself, even if he's simply a Rook (and not one of the strongest), Alibaba believes that he's stronger than a Knight. He thinks he can defeat anyone just thanks the synchronicity with his ÄRM, Majin no Lamp, that, instead of this, it's useless in each situation. The biggest aspiration of Alibaba is the fact that he wants to become a Knight defeating one of the MÄR, jumping the grade of Bishop, so this shows us how crazy and utopic he is. He's not really that wanted, neither from his companions, who don't care about his life. He's just one person that talks very much, but at the end he can't do anything because he's useful.
>> SPOILER <<
In the manga, Alibaba is thrown in a volcano from Aran and there, he dies, whereas in the series, he's the protagonist of two filler episodes that are just before the last War Game, where the Rook, explains that he's safe thanks to Phantom's kindness, who opened a dimensional hole in the moment where he was about to fall down. He tries to show that he's worth to what he thinks to be, and challenges Ginta, obviously uselessy, because the only thing that he gains from these episodes are: his death under the wreckages of a palace and a flirt with the Reginrave Princess.
But at the end of the anime, he survives and watches the Princess' marriage, encouraging Fuugi, his badluck friend.