A B O U T
from Wikipedia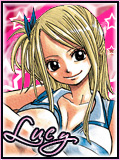 Lucy is a 17 year-old mage and the main female character of Fairy Tail. She is the newest member of Fairy Tail guild, joining at the start of the main story line. Lucy's member stamp is located on the back of her right hand.
At the beginning of the series, Lucy is an independent novice mage searching for a mage guild to join, particularly interested in Fairy Tail, which she claims as the strongest mage guild. Though she tells Happy she considered joining Fairy Tail's rival guild, Phantom Lord, due to their similar outrageous nature and personality, she is content with her decision of joining Fairy Tail. After being rescued by Natsu from the slave ship, she is invited to join the guild. Once joining Fairy Tail, Lucy becomes a member of Natsu's team.
Lucy is one of the saner and more stable members of Fairy Tail, having common sense that other members of the guild seem to lack. She consistently points out Natsu's and others' idiocy. Lucy is also very confident in her appearance and sexiness, exuding a certain amount of vanity. Despite this superficial attitude, Lucy is passionate for literature and is in the process of writing her own novel about her adventures with Fairy Tail. She is a member of the Heartphilia family, one of the richest and most influential conglomerate families in the country of Fiore. However, due to her estranged relationship with her father and the death of her mother, she left home to follow her own path.
It should also be noted that she was the only other person who had ever shut Gray and Natsu up without beating them up first. Natsu and Gray seem a little scared of her when she's under the weather, even if Lucy's magic is not as strong as theirs and can't force them into submission like Erza.
Lucy practices Stellar Spirit magic, a skill which allows her to summon spirits from another world using Keys of the Gates. Her Stellar Spirits have varying levels of power, with different ones suited for different tasks. For example, Aquarius can control water, while Taurus has enormous strength. Along with her keys, she also carries a whip, which she is proficient with. Lucy explains to Natsu that Stellar Spirit mages have the potential to obtain extremely rare Gold Keys, which open the gates of the "Ecliptic Zodiac ", and common, store-bought Silver keys. Each gold key has the Zodiac symbol of the one it is used to summon on it. According to Lucy, while there are large number of silver keys, there are only 12 gold keys. Thus far in the series, Lucy has obtained 6 Gold Keys and 4 Silver Keys. She also summoned all of her Gold keys (5 of them at the time) at once, although it only lasted a few seconds, it showed her to be very powerful. Loki's previous owner was a very powerful mage, yet she cannot summon more than one at a time.
Gold Keys
Aquarius: Aquarius, or "The Water-Bearer," is a long-haired mermaid with three piercings on each side of her tail. She is selfish, has a boyfriend, and dislikes Lucy, often attacking both Lucy and Lucy's enemies. She uses her jar to launch huge water waves.
Taurus: Taurus, or "The Bull," is a minotaur with a white and black splotched coat and a nose ring. He wears a speedo, gloves, bandages wrapped around his forearms, knee-high boots, a collar, and a strap around his chest to hold his weapon: a giant, two bladed axe. He is a pervert and constantly compliments Lucy's breasts.
Cancer: Cancer, or "The Crab," is as a slick hair stylist with sunglasses, wielding pairs of scissors and crab-claw shaped hair. He has six large crab-legs that come out of his back. When he is first summoned, Happy believes that Cancer would end all of his sentences with kani (crab), but in reality, Cancer ends all of his sentences with ebi (shrimp).
Virgo: Virgo, or "The Virgin," is a maid with shackles and chains around her wrists. Her ability is to tunnel underground. She takes on the female appearance depending on the master's preference. She was originally contracted by Duke of Evaroo and was a giant, overweight maid. When ownership of her key switched to Lucy, her appearance changed into a slim, beautiful maid. She refers to Lucy as "Princess".
Sagittarius : Sagittarius, or "The Centaur," is a man wearing a horse costume, with human hands coming from inside the hooves which allows him to hold his bow. Lucy obtained the Sagittarius Gold Key after successfully ridding the curse plaguing Garuna Island.
Leo: Loki or "The Lion" is Lucy's latest spirit who Lucy discovered was in fact Loki, a fellow member of Fairy Tail. Loki was banished from the Spirit World for inadvertently causing the death of his last master, but when Lucy confronted the Spirit King and after an impassioned defense, Loki was allowed to return to the Spirit World and Lucy gained his key, with Loki promising to be her 'strength'. Oddly enough, Loki is the only one of the Zodiac that doesn't have animal characteristics anymore. In the past, he had hair resembling a short lion's mane with spikes similar to feline ears.
Silver Keys
Crux: Appears as a large stone-made cross with arms, legs and face. He also has cross-shaped nose and moustache. He specialize is searching for information on different spirit and their masters. He is described as "The Southern Cross "
Horologium : Horologium, or "The Clock," is a large grandfather clock with arms, legs, and a face (on the clockface). There is a large enough area within it for Lucy to hide, which she usually abuses and uses as shelter or as a mode of transportation. Once inside, Horologium speaks for her, ending every sentences with "...she said".
Lyra: Lyra, or "The Lyre," first appears in chapter 28 and she wears a bonnet, a dress, and has wings on her back. She sings about emotions and often likes to take requests. She appears to be knowledgeable about magic spells as she tells the group about the moon's magic, moon drip, and how it can overcome any magic spell.
Nicola the Canis Minor : "Nicola," renamed Plue by Lucy, is apparently the same Plue from the manga-ka's previous work . He doesn't have any special ability, aside from magic cancellation, and serves more as a pet for Lucy. Natsu apparently has the ability to understand him.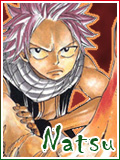 Natsu is the main male character of the series and is a member of the Fairy Tail guild. His name, Natsu (?) means "summer" in Japanese. His member's stamp is on his right shoulder.
Natsu has a carefree and reckless nature and constantly friendly bickers with other members of the guild. He has a particularly close, and competitive, relationships with fellow members, Gray Fullbuster and Erza Scarlet. He suffers from motion sickness from all modes of transportation, including trains, boats, and carriages. Along with his partner, Happy, a magical cat, he is first introduced in the manga as searching for his missing foster father.
His rose colored hair, scale-skin scarf and fire magic earned him the nickname "Salamander", one which he shares with his foster father, Igneel. His strength and reputation as one of the strongest fire mages has made him one of the more prominent members of Fairy Tail. Erza states that Natsu's true power is in a slumber state and has yet to awaken. With self-belief, Natsu will one day become stronger than Erza. It has been shown that Natsu's power exponentially increases in conjunction with his emotions, evident from his fight with Eligor.
It is unknown what became of Natsu's biological parents. Igneel, the fire dragon, discovered Natsu in the forest and raised Natsu as his own child, teaching Natsu how to write, speak and the powerful magic style, Dragon Slayer , a style said to be developed to intercept dragons. He has the ability to eat all types of fire, with the exception of his own. Natsu learns from Zarti that his magic is considered "Lost Magic" due to its destructive force. Igneel's reasons for teaching this magic style is unknown. However, at a young age on July 7, seven years prior to the main story line, Igneel disappeared, leading Natsu to arrive at Fairy Tail. These far he has only met one other Dragon Slayer user who like him learned it from a dragon.
Despite his reckless nature, Natsu shows great wit in battle, quickly identifying his opponents' weaknesses, and forming strategies to block the plans of his enemies. His dedication to his teammates and his guild is strong, preventing the deaths and self-sacrifices of several members, including Macau and Gray.
Natsu and Gray have constant fights, ranging from pillow fights to magic ones. Natsu also seems to be a sore loser, never admitting defeat. Whenever Gray and him have trouble deciding who won, they call on Lucy, who is for the most part, able to calm them down.
Sieglein has hinted of certain plans for Natsu, but the nature of these plans remains a mystery. Natsu bears quite a resemblance to Monkey D. Luffy (the main character of One Piece) not only through looks but personality as well.