• SPICE & WOLF •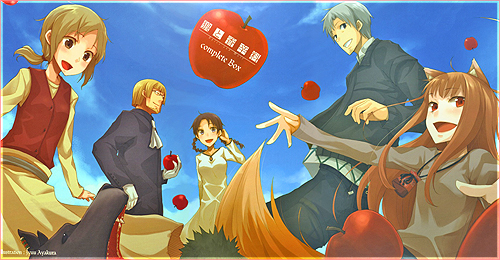 From Wikipedia
Spice and Wolf (狼と香辛料, Ōkami to Kōshinryō, lit. Wolf and Spice) is a Japanese light novel series written by Isuna Hasekura, with illustrations by Jū Ayakura. The first novel was released on February 10, 2006, and as of February 10, 2009, ten volumes have been published by ASCII Media Works under their Dengeki Bunko label. ASCII Media Works reported that as of October 2008, over 2.2 million copies of the first nine novels have been sold in Japan. The series has been called a "unique fantasy" by Mainichi Shimbun due to the plot focusing on economics, trade, and peddling rather than the typical staples of fantasy such as swords and magic. Yen Press licensed the light novels and will be releasing them in English in North America.
A manga adaptation illustrated by Keito Koume began serialization in the Japanese seinen magazine Dengeki Maoh on September 27, 2007, published by ASCII Media Works. The manga was licensed by Yen Press and will be releasing the volumes in English. The obi strip on the fifth novel announced the anime adaptation which aired between January 9 and March 26, 2008, containing twelve aired episodes, plus a single original video animation episode. The anime will be released in English by Kadokawa Pictures USA and Funimation. A second season of the anime series titled Spice and Wolf II will premier on July 9, 2009. A visual novel based on the series for the Nintendo DS was released on June 26, 2008 by ASCII Media Works, and another visual novel for the DS will be released on September 17, 2009.
• PLOT •
Spice and Wolf' s story revolves around Lawrence Craft, a twenty-five-year-old peddler traveling from town to town buying and selling various things to make a living in a stylized historical setting with European influences. His main goal in life is to gather enough money to start his own shop, and he already has been traveling for seven years while gaining experience in the trade. One night when stopped at the town of Pasroe, he finds in his wagon a pagan wolf-deity girl named Holo who is over six hundred years old. She appears to be a fifteen-year-old girl, except for a wolf's tail and ears. She introduces herself as the town's goddess of harvest, who has kept it blessed with good harvests of wheat for many years. Despite having the responsibility to watch over the town, she wants to go back to her homeland in the north called Yoitsu; she believes the people have already forsaken her and that she has kept her promise to maintain the good harvests. Holo wants also to travel to see how the world has changed while she has remained in one place for years. She manages to bargain her way out of the village by making a deal with Lawrence to take her with him. As they travel, her wisdom helps increase his profits, but at the same time, her true nature draws unwanted attention from the church. Throughout the novels, the two slowly fall in love.