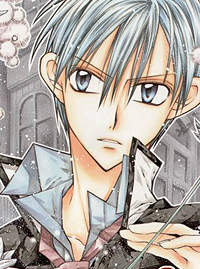 We all know Takanari as a wonderful character, named Emperor Shizumasa, with stubborn and bashful manners. His smile was always very sad, and at times, he was very strange. He will continue to act like this many times, and some of them, he will hurt the feelings of everyone, up to the moment in which we'll finding out the fact that he's a fake of the real Shizumasa, his twin brother. After that moment, his sadness continues, because Takanari couldn't be himself, and Shizumasa would take his place... even with Haine. Even if he is a subsitute, he's the real writer of the book he wrote when he was a little child , but nobody would ever recognize that the succes was for Tougu Takanari, just for Shizumasa.
    His sweet side is awaken from Haine, who helped him to find his way and, above all, to find his true self, Takanari Tougu. He could be himself just with her, to whom he decided to confide his truth (even if she found out herself during a date with him), but from that moment, he could be sure to know who he was and continuing his life as Takanari, together with Haine. When he was a child and during the proof for the heir of the house against Shizumasa, he lost because he wanted to help him... it was really unfair, especially from the fact that from that moment on he was considered dead. A kind and sweet child like him, who decided to took Touya from the street and to treat him like a real friend, didn't deserved this kind of treatment from his grandfather, even if it was because of the legend of the twins that lived in his house. Takanari is just a boy who needs to be understood and loved for what he is, and hopefully, Haine is the one who, after infinite insecurity, understood this and chose him as his prince charming, stepping back from Shizumasa, that was not the one she loved. Takanari tried to be not that friendly with everyone he knows, especially the people of the council, but he couldn't help to become friend of them all, especially with Maguri, with whom he has a very special relationship: even if at the begin he pretended to be his boyfriend, he then understood that their bond was very close, and they became best friends. For this reason, many times, when it came that Takanari was uncertain in something, he was always there to give him a hand.
    His personality is surely the one of a stubborn, but he's deeply sensitive and caring, especially when there's something about of one of his friends and his lover. What he wants it's just to be happy, and for what he did, it was only a fair reward. At the end of the story, in fact, he will decide to save his brother's life and to leave Haine to him, because he knew that he was sick and wanted to do the best for him, even if it meant to be unhappy for the rest of his life. As the story went on, Haine freed Takanari from his family becoming the heir of the Kamiya family, but, even after their marriage, he will decide to live with his wife and his brother, because, even if Shizumasa has always been evil with him, he had a reason to do that, and Takanari loved him more than everyone else.