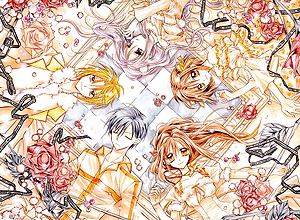 Shinshi Doumei Cross is a manga written and illustrated by Tanemura Arina.
    The story is about a girl, Otomiya Haine, that attends the Imperial Academy in order to be noticed from her prince charming: Tougu Shizumasa. She is a very lively and kind girl, who studies and works in the Academy because she doesn't want to be a burden for her family, since she was adopted when she was very little. When she still lived with her previous family, she met a little boy, Shizumasa, who wrote a book that she loved deeply: from that moment on, she fell in love with him. Since he was the same boy that, after they grew up, saved her from the pain she was suffering when she was a thug, she decided to follow him and to make him fall in love with her, no matter what!
    The story is full of characters and twists, all of them will ring around our heroine, but she won't be the only one that will be developed as character. I really recommend this manga to everyone, it makes cry and smile everyone who reads it, because of its amazing and deep contents!