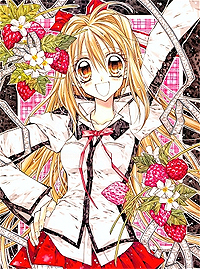 Haine is the protagonist of the story. She is a determined and simple girl who loves to stay with her friends and to make the possible to be near them when needed. She's named Cinderella of the Beach from everyone in the Imperial Academy, where she studies and works in order to help economically her adopted family. In fact, she had been adopted to the Otomiya's when she was little, in exchange of money from her father. This thing will shock her for a good part of her life, but anyway, she gets along very well with all the members of her new family and almost consider it a real one. Her family, anyway, take the money pretending to spend them, but truly, they made a bank book for her, in order to save the money she made for her future. Anyway, she continues to prove strong feelings of love for her whole real family.
    After she was adopted, she couldn't bear the sadness she had inside of her, and she decided to become a bad girl. She was one of the strongest of her band and she was very praised and dreaded... the one who made her change her mind was Shizumasa. Once they meet and he talked with her, saying that the best for her was not to be like that, she had to live her life honestly because she was not that kind of person. Haine, after being astonished from this, remembered that she already saw this guy when she was little. In fact he was the person who wrote the book she loved so much, the one that was the first and only gift that her father made her. After that moment, she will always be determined to make her prince fall in love with her and to defend him from anyone who wants to hurt him. She is very friendly with all her friends, but the one that she cares the most is Ushio, her best friend. She helped her a lot in the past, and still, they're very close: we can say that they are always there when one needs the other, a real and proper friendship! ❤ In fact, when Haine entered in the student council, Ushio made the same, with a recommendation. When Ushio will be scared from the fact that Haine could leave her alone and was too jealous of her relationship with the others, she decided to tell her to decide if she prefered to stay with Shizumasa or with her. Haine thought that she didn't want to lose her precious friend, even if losing her love would mean losing a part of her life: anyway, she decided to turn back time, so she dyed and cut her hair, in order to let Ushio understand that their friendship was something that couldn't be broken just because of love. Ushio will luckily understand her position and finally will decide to give up on her feelings.
    Haine is a character that gives a lot of importance to her feelings, unfortunately she is not very good at hiding or at contain her personality. Her spontaneity is a thing that I appreciate a lot~ And then... she loves so much her friends that even if she's wrong, she understands the problem and tries to reconcile as she can. Even if she seems a girl that is always happy, she hides a "sad part" inside of her heart, but she will menage to delete it during the story, because thanks to her friends and the courage that they will give her, she will understand the right thing to do. She is full of things she likes, as to dance, even she didn't had the possibility to continue. She is a person that always listen to the other prolems and tries to be honest, saying her opinion about it. Even if she likes to joke, she's always very genuine with everything she does, and what moves her, is the will to do the best for everyone.