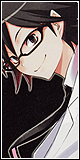 Name: Shinra
Surname: Kishitani
Age: 24
Seiyuu: Jun Fukuyama
Peculiarity: He loves to make experiments
Job: Underground Doctor
Known as: -
Nickname: -
Relatives: Kishitani Shingen (father), Emilia (step-mother)
Birth Place: Japan

Shinra in a mad doctor specialized in plastic surgery.
He's in love with Certy and his desire and goal is to marry her. He's practical with autopsy and every kind of intervents since he was a child, because his father is a doctor and he learned to him the job.
Shinra is logorroic and funny, he loves the mysterious of the nature and this is the reason why he's ver interested in Shizuo's strenght and in Certy's body. He met Izaya and Shizuo at the middle school and they became friends, but actually he doesn't like to meet Izaya, and he isn't interested iin him more because Izaya isn't a subject of study for him.
He met Certy when he was just 4 and he was in love with her at once, so now that 20 years are spent and his feelings are always the same (maybe stronger), he wants to marry her.
Certy requites his feelings but she wants to find her head before confessing her feelings to him.
Certy doesn't know that Shinra is the one that gave her head to Namie some years ago because he thought that if Certy would find her head, surely she'll be back in Ireland.
When Certy finds the truth she's shocked and slapping him she runs away sad and angry.
But she really loves him and when they has the chance to clarify the situation, they become lovers.
Shinra is a very talented and smart person that thinks rationally about all the situations he meets. He's able to find an explanation for anything and he can be very romantic if he wants.
His feeling for Certy are the most important thing for him, so she's the most important person.