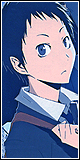 Name: Mikado
Surname: Ryugamine
Age: 16
Seiyuu: Toshiyuki Toyonaga
Peculiarity: He << has created Dollars >>
Job: Student
Birthday: March, 21
Blood: 0
Nickname: Tanaka Taro
Birth Place: Japan

Mikado is a quiet, kind, and serious student that starts the story living in Ikebukuro and joining Raira Academy invited by his best-friend Masaomi.
In a first moment he can seems a passive boy, that is always involved in all the situations, but with the development of the story we find that he's the founder of Dollars (originally creted as a virtual web group that he has crated in order to find friends) and he's very smart and brave.
He's fearless and he's always ready to protect who is in difficult, not just his friends.
He's in love with Anri and they're class represants together.
He admires Masaomi's coolness and Certy's strenght. When he realizes Namie's actions, he decides to help Certy to find her head and to save Mika, who told him the truth about her plastic surgery and the identity of the person that really is proper of her face.
Mikado graw up feels lonely but now he has a lot of friends that love him and are ready to help him in every situations. His friendship with Masaomi is in danger whn Masaomi realizes that his best friend is leader of Dollars, but he really likes him and their troubles will resolved, even is they'll always share a sort of rivalry because both of them like Anri.