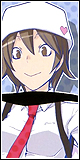 Name: Mika
Surname: Harima
Age: 16
Seiyuu: Mariya Ise
Peculiarity: She's a stalker
Job: Student, Stalker (personal interest)
Birthday: -
Blood: -
Nickname: -
Birth Place: Japan

Mika is Anri's best-friend.
She's a funny and energic girl that believe in love with all herself.
She falls in love with Seiji since the time in which he saves her and Anri from a gangs of thugs ready to beat them.
Since that moment she saw him as her prince and she starts to stalk him in order to become his girl.
Seiji didn't requite her because he always declared to be in love with another person, and one day, in Seiji's home, Mika realizes that his love is Certy's head.
In order to be loved by him she decides to make a surgery on her face, and becoming the same of Certy she put across Seiji to be her.
Namie is who dreams up the plane, but her goal want's makes Mika the ideal lover for Seiji. Since the first moment she thought to ask to Mika the surgery only because in a second moment she'll deleted memories and love for him from Mika. Qhen she realizes Namie's plane, Mika escapes with Seiji (that obviously doesn't know anything about her real identity, he thinks that the girl beside him is Certy) and after Certy's first apparition, she meets Mikado. Thanks to him she can explains the truth to Certy and finally searching Seiji in order to be sincere with him.
A year later Mika meets Namie, that tries to deface her, but Mika explains to her that in that year she made a hard work as stalker and now she knows everything.
About Izaya, about Mikado, Certy, Shinra, Shizuo, Anri, Masaomi, Shingen, and obviously, about her.
Moments are the ones that she spent in Namie's laboratory clarify to Mika what she really wants, and she wants to stay together with Seiji, so she keep her last decision: she'll be sincere with him, offering to the beloved person all her heart.
Namie can't kill Mika, so she's free and now Seiji and her can become lovers.