ANGE & LAMBDADELTA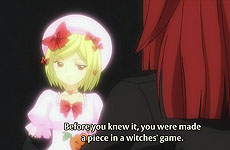 Lambdadelta is the witch that reveals to Ange the truth about her path with Bernkastel.
She apperas freezing all the atmosphere and mammon too, sure to speak only with Ange.
Bernkastel said that she'll give to Ange "the happiest final for her", but this DOESN'T MEAN that Battler and the other will turn to the Ange of 1998! That time they're all dead and she's alone, so if Battler wins his battle against Beatrice, he'll be able to turn to the Ange of 1986 but not to her!
This truth shocks Ange and she understands that Bernkastel is prive of feelings. Her "miracles" are just the way to win against Lambdadelta and Beatrice.
Also, Lambdadelta suggests to Ange to make a path with her (obviously in exchange of some helps) but Ange rejects the propose, continuing the battle and deciding to reveal to Battler who is her, even if it means die.