ANGE & BERNKASTEL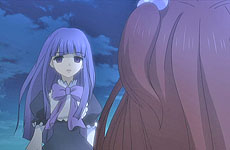 Bernkastel is the witch that appears to Ange in the moment in which she decided to commits suicide, suggesting to her to become her ally in order to fight the battle against Lambdadelta, Beatrice and the other witches.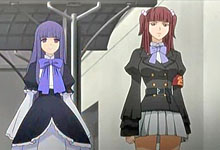 Ange can't understand, but Bernkastel explains to her that she can report her in the realty of 1986, showing what's happened in Rokkenjima. Ange understands that that is the only way to find the truth and decides to accept Bernkastel's propose.
There's only two condition:
For Bernkastel Ange have to help Battler, avoid Beatrice's victory. But Battler can't know who she is, so she needs to use a nickname pretending to be someone else.
For Ange Bernkastel have to vouch for the return of her family, and Bernkastel accepts just sayng that "she'll esnured for "the happiest final for her" (without specify of what it means) .
Ange and Bernkastel become allies but not friend, they share a path but not a bond of feelings.